Lotito 'rejected € 160m bid for Man United top target'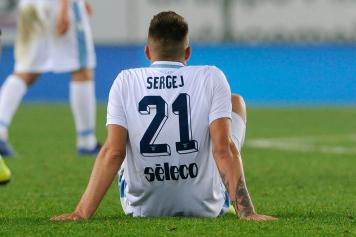 09 January at 16:15
Sergej Milinkovic-Savic is one of Manchester United's top summer targets. The Serbian midfielder, however, has a huge price-tag. The Biancocelesti president Claudio Lotito has revealed that he rejected a € 160 million bid for the talented midfielder.
"The interest of myself and those who run the club is to make a strong and winning team, to reinforce it and not weaken it.
If I had another mentality, I would have sold Milinkovic for 160 million but I did not do it. I think that no president in the world would have done what I did", Lotito said.
​Lotito spoke on the day of Lazio's 'birthday'. Last night over 2.00 0 fans celebrated the happening in Rome but some of them had clashes with police: "As the minister Salvini said, the responsibility is personal, so everyone is responsible for his behavior.
If I am here today, is to tell you not to repeat that behavior. I'm trying to make the children understand that they must cheer their teams in respect to the rules.
Victories must be done following the rules, without finding shortcuts. To be a fan means being passionate. For me, the fan is the one who participates in a passionate, emotional and empathetic way to the life of his favorite team, respecting the rules. All the others make different choices but they will be responsible for their behavior".