Lucas Torreira: the 'next Verratti'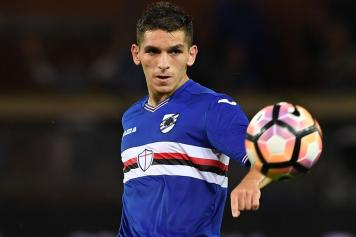 26 September at 13:28
Might Sampdoria hold the key to the Italian National Team's central midfield for the future? In Lucas Torreira they might just have him. According to the scout who discovered him, he's got all the qualities possessed by Marco Verratti.
"He lives for football. He's incredible. He's like Verratti," according to Roberto Druda. The scout went on to explain his comparison, "Massimo Oddo and many others are convinced that Torreira can be even strong than Marco Verratti."
The Uruguayan's first impression on Druda was a lasting one. After discovering an injury on Torreira's foot, Druda took him to a foot specialist. What the doctor found astonished him. "This guy had seven warts on one foot. He couldn't even walk!" Druda continued, "he had played on for months and months. He did not say anything because he was afraid to miss playing time."
The 21-year-old came to Sampdoria by way of Pescara's U19 team in 2015. After a successful loan spell last year, the side in Genoa purchased him outright for €1.8 million. Last season he appeared in 36 matches in all competitions for Sampdoria, an excellent achievement for a 20-year-old.
Like Verratti, the main criticism of Torreira is that he is small in stature. Druda addressed that when he pointed to his performance in Sampdoria's 2-0 over AC Milan. "Did you see how he moved Kessie? There is a computer in the middle of the field. He's complete."
Druda also believes that, in time, his offensive prowess will break through. "I assure you, Torreira knows how to score a goal. He can easily jump the opponent when he enters the penalty area." He finished by saying, "I see him ready with the head he has, in addition to his technical skills and potential. It is extraordinary."
Matthew Klimberg