Luciano Spalletti: "I am lucky to be coaching these players"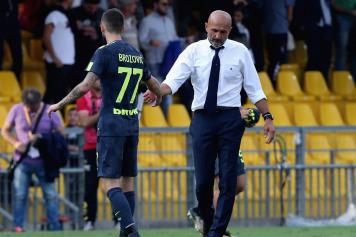 22 October at 06:30
After a very important draw away against Serie A leaders Napoli, a visibly happy Inter coach Luciano Spalletti was interviewed by Premium Sport.
Did you enjoy yourself? This result means that also Inter is up there?
"I have to pay respect to the lads. People say that we are fortunate and I like it, but my luck is to coach these guys, who always do their best. They know where they want to end up. Today we played a great game, but we also had the chance to do even better. Napoli played great, they seemed to be inspired. We have to improve a lot in no time, but we are getting better and better and we are dealing with serious people who are working seriouslt. In two or three situations we had great opportunities to score."
What can you say about Handanovic?
"He did what he is supposed to do, made some great saves. Also Reina did great in a couple of situations but we suffered a lot during some periods of the match. Getting home with this result is a victory."
Is the next step for Inter to play like Napoli just did? Like a team that has been playing for three years?
"This is true, just don't give me the usual questions: "You have to win the scudetto…" It is you guys who looks for heroes, whoever finishes second is unhappy, but it doesn't works like this. There is always the things on which we work seriously and hard, things that makes us grow. This team is still a bit immature, we lost some balls in difficult situations. Some things we have to adjust a lot to, on Tuesday we face another team, Sampdoria. A game that will be hard."
Do you believe in the Scudetto?
"Yes, we will win it, that is how everything will end [laughs]."
Inter has made some progress, the approach has been a lot better if you compare to previous seasons?
"This is true, Napoli played a tough game three days ago. Sarri has a point when he says that this team is reduced to another team if you compare the team that played UCL three days ago. We should be able to do better and we have to do better, even if this was an important point."
Nima Tavallaey Roodsari