Luciano Spalletti: "Ramires? I don't want to talk about the transfer window"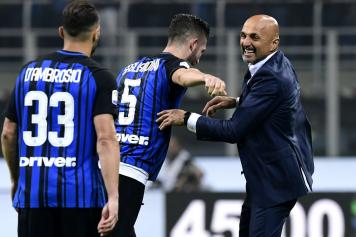 29 October at 16:00
Luciano Spalletti spoke with InterTV ahead of the match against Hellas Verona tomorrow night at the Stadio Marc'Antonio Bentegodi.
"Hellas coach Fabio Pecchia? He is a wondeful person aside from being a fantastic player from whom I have learned many things. A lot of the things that I am looking to teach were dictated to me byt he quality of the players I have coached. He is one of those people. He has been an assistant coach to great managers, he was already a coach when he was a player. I have seen how well they work, Hellas Verona are good but have lacked continuity. They could have been 3-0 up in the first half against Atalanta."
"Handanovic? It wasn't a specific request of mine but that of football. When they press you, the player that needs to create from deep has to be the goalkeeper. Thankfully Handanovic has always done this, it is a quality that he was taught by Bonaiuti. This quality is a solution to be in command of the play. Who has surprised me the most? They all have, I like all my players, the results go side by side with the team. Clearly the fact that we have more and more leaders is something that makes me very happy."
Moments later during the official pre-match press conference Spalletti confirmed that Marcelo Brozovic is fully fit from his injury and available for selection before talking about Matias Vecino: "He is complete. He can do everything. I will show you that he also has a great shot, the ability to score goals, he has the ball glued to his feet and can go past his man. He had to adapt to a new situation and he is paid what he is worth. Fiorentina are no spring chickens, he was worth it. Now he is in the team."
What do you expect from the January transfer window?
"Now for us it become difficult becuase we have to stay focused ont he players we have. Every choice comes with an elevated price. Now we must see if we are well equipped to achieve our objective. If we see a necessity we will see to it but we don't need a lot of names to do so. I am very happy with the players I have. Today it is more important to see who could leave. For me, this team can finish in the top."
How do you rate Ramires?
"It doesn't suit us to speak about this right now. It is a bit like the talk of winnign the Scudetto. I don't think it is useful to talk about this. If you are a player that plays in this role you wont be happy because the team is doing more than they are being asked to do, when comparing with how the league table looked last season."
Nima Tavallaey Roodsari