Lukaku reveals Man United problems and explains why he chose Inter over Juve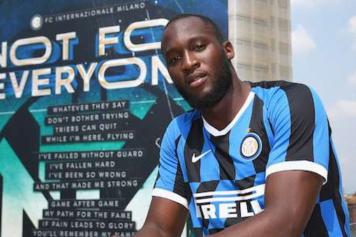 21 August at 22:00
Interviewed for the
LightHarted
podcast by Josh Hart, Romelu Lukaku spoke about his move to Inter Milan as well as his relationship with Antonio Conte among many other topics.
"He [Conte] wanted me already when he was at Juventus in 2013. He showed me how I would play in his team. He is a great coach, he won three titles before leaving them, taking them from the bottom, from seventh place, and leading them to victory. He won a championship without being defeated. The Premier League is the best but for me the Italian league is second. It is very difficult to score in Italy," he said.
"Manchester United? I was wondering if I was the problem since with Belgium I was scoring but at United, things weren't going well. I talked to the staff and asked for explanations, I didn't feel protected.
"There were too many rumours and speculations. They kept saying that the coach didn't need me, that they would sell me. I was waiting for someone to silence these rumours but it didn't happen. They didn't protect me and so I said I wanted to leave.
"I didn't want to stay in a place where they didn't want me. I believe in my abilities and fight for what I believe. I don't want to be a problem. Inter and Juve wanted me but they weren't the only ones.
"Chelsea? Lampard helped me a lot when I was there. In Italy, there were two teams that wanted me. I had to make a decision and I said what I had to say and I did what I had to do. At that point, it depended on United. I had no clear indications of what United wanted, it was up to my agent to find a solution. For me it is important to be where they want me," Lukaku concluded.