Maldini: 'Messi better than Ronaldo; I've quarrelled with Galliani'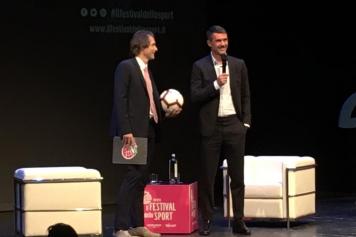 13 October at 14:15
Speaking at the
Sport Festival
at Trento, Milan legend and current staff member Paolo Maldini spoke about his time at the club, his career as a footballer and Milan head coach Rino Gattuso.
"I was ten years old, I bought shoes with my mother in Corso Buenos Aires, I went there and they lined me up as right wing. able to play in Serie A, in the bus, on the way back, I became aware, even today there are talents but the system does not help because the youths are not ready for the C, this must make the Federation also reflect on the second teams.
"If Gattuso is more of the Cup or championship manager? Let's see this year. He has a great sense of belonging, which is the first thing we wanted to convey myself and Leonardo. Now the vision that others have is also changing Gattuso, is not only the whole grit but has made a leap forward from the technical and tactical point of view, in fact has our confidence. He was brave to accept the Milan bench and has the great talent to know how to listen.
"Manage the emotion but the Champions League final is the Champions League final. At the age of 20 there is a bit of unconsciousness while at 37 you know it could be the last one and so you want to win it. The strongest opponents? Platini, Maradona and Inter Ronaldo, who was strong, fast, technical and scored. Among the Italians I say Totti. Messi or Cristiano Ronaldo? I would say Messi even if Ronaldo is phenomenal, but the Argentine is the essence of football. It reminds me of Maradona being beaten and saying nothing."
For more news, views and features,
visit our homepage.