Man City GK's wife: Chile were drunk in World Cup failure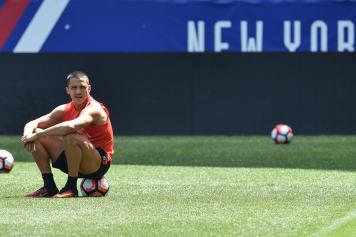 12 October at 12:45
Things are heating up in Chile, as the Roja's failure to qualify for the World Cup is leading to recriminating statements being bandied around.
Manchester City goalkeeper Claudio Bravo's wife may have gone over the top, however, posting on Instagram that she believed that some of La Seleccion's players were drunk in their 3-0 loss to Brazil.
With Argentine beating Ecuador 3-1 and Peru nabbing fifth place, Chile failed to land a spot on the plane to Russia 2018, despite being reigning double South American Champions.
"Thank you to the national team for all of the special moments," Carla Pardo wrote on Instagram. "Thank you to my captain America for all that you have given us.
"But when the shirt goes on, there needs to be professionalism.
"I know that the majority of players worked their butts off, while others went out partying and didn't even train because of how drunk they were.
"If the hat fits, then wear it and stop crying about it because now it is the entire country who is crying.
"We will wait for you here with open arms, captain."
Former Inter man Gary Medel was opposed to the comments, however: "I haven't seen a teammate who was drunk or trained drunk, I haven't seen that anywhere," he said.