Man City-Napoli: Tuesday night is a tale of two men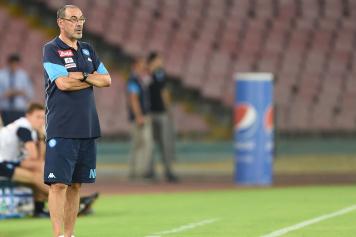 17 October at 09:39
One has seen and done it all as a player and coach at the highest level while pioneering a brand of football which dominated Spanish football for almost four years.
The other is a former banker who through hard word and dedication has risen from the lower leagues to mould his own brand of attacking football that is currently taking Serie A by storm.
This may not quite be
Tiki-Taka
vs
Sarrismo
, but it's as close to it as you're going to get, and the clash between Manchester City and Napoli at the Etihad will present Maurizio Sarri with perhaps his toughest managerial opponent to date in the form of Pep Guardiola.
"Sarrismo", the adopted name of Napoli's style under Sarri, takes many cues from Guardiola's infamous Barcelona system and relies on a possession based passing game that can quickly transition from back to front and utilises a ball playing goalkeeper with excellent distribution to launch counter attacks from set pieces.
There's also a mental aspect to both systems that requires the players to have a strict understanding of their role within the team and a maturity to understand the managers philosophy and ideas.
Sarri enforces this through what many have labelled, "the University of Sarri", an education that young players must endure and successfully come through before they are allowed near the first team squad on match days.
In recent seasons we have seen the likes of Amadou Diawara, Marko Rog, and Piotr Zielinski undertake this "education", proving to Sarri that they understand what is expected of them before stepping up to play pivotal roles in the squad, with summer recruit from Bordeaux, Adam Ounas, the latest to be enrolled.
Sarri has seen many plaudits come his way, both from his native Italy and from across Europe, yet he seems to take it all in his stride. The chain smoking, gruff looking, Neapolitan will no doubt appreciate the comments about his footballing philosophy but he'll never been caught wallowing in it, instead preferring to let his team do the talking which is admirable given his near meteoric rise in the modern game. Many would let it get to their heads. Sarri? He'll just light up a cigarette and get on with things, he is remarkably grounded given the newfound attention on both him and his team which, in many ways, is an underestimated part of what makes Napoli tick.
To those who follow Serie A, the story of Sarri's rise from banker to the top of Serie A is well known.
A journey that has seen him make some noticeable stops including Pescara in 2005, Avellino in 2007, Verona in 2008, Sarri would start his career in the lower leagues around Tuscany, the region he was raised after moving there as a child.
He would go on to manage another Campania side, Sorrento, in 2011 before making the move to Empoli in Serie B and it would be here where Napoli president Aurelio De Laurentiis would find the man he would handpick to mound his Napoli of the future.
And yet, while Sarri was balancing managing a bank with managing in the amateur leagues, his Champions League adversary was winning trophy after trophy as a player with FC Barcelona. Never, in the history of the Champions League, has there been such an incredible, and dare I say romantic, gulf between two coaches in terms of their route into and education within the game.
When Napoli lost to Shakhar on matchday 1 the knives came out for Sarri as quickly as the plaudits had appeared, with many quick to predict the death of Sarrismo, labelling it "predicable" with some even saying that his 4-3-3 had to be changed, that teams had learned how to play against Napoli, studied them, worked them out. How wrong they were; Napoli haven't lost since.
In fact when you look at Serie A as a calendar year, 2017 has been utterly ridiculous for Napoli supporters; 13 wins in a row, 24 Serie A wins, 3 draws, and just a single defeat – coming at the hands of Atalanta at the San Paolo back on 25
th
February, which coincidentally was the last time Napoli failed to score a goal in Serie A.
I mentioned Sarri's gruff exterior earlier, and with good reason, because this Napoli side have grown to have a mental toughness to match their managers appearance, with the weekend win over Roma no better an example. Sure, Napoli done the Roman double last season too, but there was something different about Saturdays win at the Olimpico; there was an aura of maturity about the team, a look about the players that the occasion didn't phase them, knowing fine well that Juventus had lost to Lazio hours earlier. Napoli, plain and simple, looked like Champions at the weekend, it wasn't all pretty football and entertainment, they had to dig deep, and to quote my good friend Christoffer Svanemar, they had to suffer. Then, and only then, do you see what your team is made of, and Napoli came through the test with flying colours.
Back to tonight's game, and despite the dominance in Serie A, Sarri will never have faced someone who knows him better. Guardiola has talked a good game for weeks now, in fact it feels like he's talked about Napoli at every opportunity, praising the style of Sarri's team and waxing lyrical about the manner in which they approach the game. It's very flattering, but part of me can't help but think it's good old fashioned mind games, an attempt to flatter Napoli into deception, but it won't work with Sarri.
When Napoli went to the Etihad back in September 2011 to open their Champions League group campaign they had just 32.1% possession with a pass completion ratio of 71%; those two stats are guaranteed to be far higher come full time on Tuesday evening.
From a Napoli perspective, I'd love the three points but we need to be realistic, Manchester City are on fire right now and being the home side will fancy their chances. However, they will not have faced anything like what Sarri will bring to the table during any of their Premier League matches so far this season.
For the neutral this promises to be one hell of a match, with two near identical sides in both formation and mentality. Two words: goals galore.