Man United and Inter target reveals future and says it's a privilege to train with Chelsea star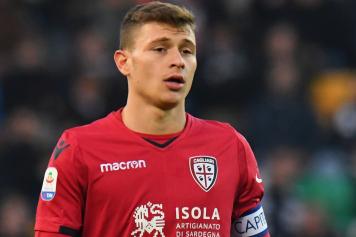 03 January at 17:00
Cagliari midfielder Nicolò Barella is a transfer target of Inter, Napoli but also Arsenal and Manchester United. The Italy international spoke to
La Nuova Sardegna about his plans for the future and his career
: "2018 was the year of the turning point. Surely, I have grown as a footballer and above all as a man. The experience made in Serie B with Como made me understand what it means to be a professional footballer".
ON ITALY -
"It's an honor to wear the blue shirt, to be part of a group with many well-known champions, to train with people like Chiellini, Bonucci, Verrati, Jorginho. It is a privilege, you can only listen and learn from them".
ON MANCINI -
"He speaks generally with the group and rarely with the single player, he has always told me to play with the ball and wait for the movements of the attackers and insert me in the spaces. He says that my qualities are enhanced. I agree with who was a champion on and off the field ".
ON CAGLIARI -
"A dream come true, pursued since I was in the youth sector. My idols were Conti, Cossu, Pisano, and Murru. I learned something from each one of them when I put my shirt on I have only one thought: to give the maximum for the colors I love since I was a kid"
THE MARKET -
"I have never given too much weight to compliments or criticism, I am not impervious, but I know that in this world nobody gives you anything. If there are clubs interested in me it means that I am doing my job well. The supporters? They say that they are very proud of my daughter, she is beautiful. I understand that they love me, I feel like everybody's son, it's a really nice feeling. I do not look at the money. If I change team in the future it will not be for the money, I will do it for ambition. My future? At this moment I have no idea of what will happen".
THE FAILURES -
"Too many protests? I can recognize when I'm wrong and I admit that on some occasions I went over the top. I do it because I like to win. I promise that in 2019 I will work to improve".
GIULINI -
"I know he's expecting a lot, he decided to send me to Como to grow up and he made the right choice. He treats us all the same, a person who compliments us if we deserve it."