Man United release Ibra. From USA to WBA to Celtic...the web dreams of the Swede's future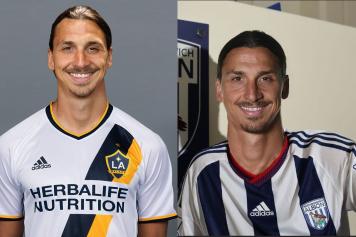 09 June at 22:55
Eventually the official word has arrived. No more Manchester United or Premier League, from June 30 Zlatan Ibrahimovic will be forced to find a new team. Still working towards full strength after the unfortunate injury in the Europa League quarter-finals against Anderlecht, which caused ligament damage in his right knee, the Swedish giant will have no trouble finding a club ready to welcome him.
THE INTERNET FANTASIZES - On the web, there are so many teams, or fans, that are going through tweets with which they claim to be ready for everyone to welcome Ibra. Like last year, when a club in Fourth Division, Rot-Weiss Oberhausen, published a tempting list to convince him: "Oberhausen will adopt the monarchy and Ibrahimovic will be named Absolute King. Konig Pilsner beer will change its name to Ibra Pilsner, and the Ebrtbad pool, closed in 1983, will be filled every time Ibra wants to go swimming." It seemed an illustrious dream for such a small club, but the marketability and playing ability of the Sweded continues to go unquestioned.
Meanwhile attention also calls from the WBA, Hertha Berlin, LA Galaxy and Celtic (where the fans allow a dream). There has been no rumors as of yet, but the question lingers: Will anyone from Italy call him back to Serie A?
@davidbaleno