Man United spark controversy calling Juve 'Rubentus' ahead of Champions League clash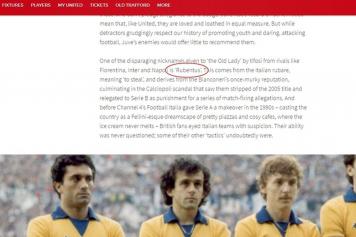 23 October at 12:15
Juventus are set to face Manchester United tonight at the Old Trafford in a Champions League group stage showdown between two very successful clubs in the competition. However, ahead of the match,
United previewed their opponents on their website
, with which they sparked significant controversy in Italy.
"One of the disparaging nicknames given to 'the Old Lady' by tifosi from rivals like Fiorentina, Inter and Napoli is 'Rubentus'. This comes from the Italian rubare, meaning ' to steal', and derives from the
Bianconeri
's once-murky reputation culminating in the Calciopoli scandal that saw them stripped of the 2005 title and relegated to Serie B as punishment for a series of match-fixing allegations," the
Red Devils
' official site wrote.
"And before Channel 4's Football Italia gave Serie A makeover in the 1990s - casting the country as a Fellini-esque dreamscape of pretty piazzas and cosy cafes, where the ice cream never melts - British fans eyed Italian teams with suspicion. Their ability was never questioned; some of their other 'tactics' undoubtedly were," they added.
In short, not a very nice description of Italian football and Juventus. The
Bianconeri
return to the Old Trafford after 15 years, the last time was in 2003 when they were defeated 1-2. Moreover, Cristiano Ronaldo will return to his former stadium, which will surely make it a special match for him.