Man Utd defender sends message to Mourinho over lack of game time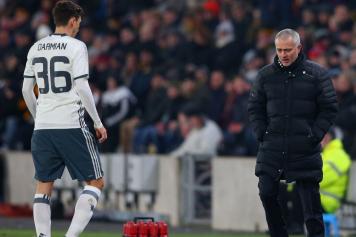 04 October at 16:45
Manchester United and Italy star Matteo Darmain has been once again included in Italy national team squad.
The former Torino ace, however, has been struggling with game time so far this season and sent a message to José Mourinho on Wednesday afternoon when he talked to Italian reporters from the national team training ground in Coverciano (Florence).
"I'd return to Manchester United, it's a choice I would do again",
Darmian said.
"Of course I want to play as much games as possible and that's why I am working hard every day. I want to 'cause problems' to the manager [Mourinho] when he will have to chose the starting XI. I can't deny I am still watching Italian football. Who knows, maybe one day I could be back."
Darmian has only
managed four appearances in all competitions
so far this season and despite lack of game time, Ventura still relies on him.
"We will miss important players for the next few games and I am thinking of players like De Rossi and Verratti", Darmian replied when asked about Italy's incoming games. "We have to remain positive and work well. The Macedonia clash is an important one. We don't fear we are not going to qualify for the World Cup We know how important that achievement is for all of us."