Inter, Mancini: 'Italy job offer can't be refused. Simeone...'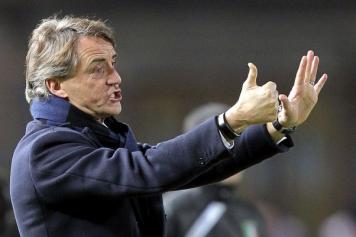 27 April at 20:55
Inter manager
Roberto Mancini has responded to his Atletico Madrid counterpart Diego Simeone
who had revealed his intension of going back to Inter with a coaching role one day.
"Diego was one of my teammates at Lazio and I also coached him. If one day he'll join Inter I'll be happy, but there can't be two coaches now. We'll see when I'll leave."
Mancini was also asked his thoughts on the
nerazzurri
2015-16 campaign.
"We have taken the right path. We've always played very good games after the Coppa Italia return match against Juve."
"We paid a high price for some mistakes we did. We lost some games which we did not deserve to lose. Everyone makes mistakes, but the only thing needed is patience, something that we are really lacking of in Italy."
"Looking at how we had begun this campaign, I thought we could have battle it out for a Champions League spot, but I made some errors too."
"At the beginning I used to change our system very frequently while now I've been playing the same players for quite a long time."
"I speak with Thohir at least once a week, we are ok good terms. When I was in Manchester I was not used to see the president."
"Becoming Italy national team coach it's not something that happens every day. It is a different job, but it can be as exciting and stimulating. I think that when one is offered the national team job he has to accept, if there is a chance."
Lorenzo Bettoni @lorebetto