Mancini talks Zaniolo's injury, Chiesa and his choice between Belotti, Immobile and Balotelli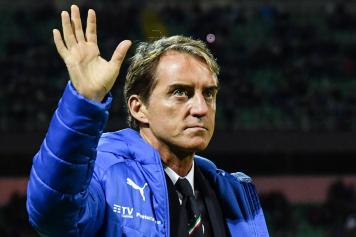 18 January at 13:20
Interviewed by Gazzetta dello Sport (via calciomercato.com)
together with Arrigo Sacchi, the manager of the Italian national team, Roberto Mancini, spoke about his adventure in view of the European championship in June and took stock of the situation of Italian football.
"The philosophy? Once Cruijff said: 'Italy cannot win but against Italy, you can lose.' That is what we have to change: to thin that without conceding a goal, sooner or later, we will score one," he said.
"On the first day I said to the team: 'We have to do something different, otherwise no one will give a damn about the national team anymore, we cannot keep winning 1-0.' The players like to attack and win. They have fun in the national team. In fact, they followed me with enthusiasm. We won all the matches."
The former Inter and Zenit manager went on to speak about the group of players he is in charge of in the national team and also took the time to address Nicolo Zaniolo's situation, as the Roma star suffered a serious injury against Juventus this week and could miss the European championship.
"This is a healthy group of good guys. When Chiesa, Barella, Mancini, Pellegrini went to the U21 European Championship, they were among the best. Someone else a little less," Zaniolo said.
"I'm sorry about Zaniolo, he would have improved further. Nicolo is unique because he covers multiple roles, he is powerful and has different characteristics from the others. I talked with him on the phone and he seemed well and charged. He is young, he can make the Euros.
"Tonali? He is growing, he must measure himself at high levels. Castrovilli? The more he plays, the better he will get."
The coach of the national team went on to talk about his attacking options ahead of the European Championship, with the biggest contenders for a call up being Ciro Immobile and Andrea Belotti, while there are some talks that Mario Balotelli could also make the cut.
"Belotti or Immobile? In March they will play a friendly each. The twenty goals of Immobile do not change the hierarchies. The important thing is that they continue to score and arrive well in June. We will have two forwards with different characteristics.
"Balotelli? I follow him every Sunday. But Mario should score one goal per game and always run like crazy. Kean? Hopefully, Ancelotti will give him a hand. To become important he has to do more.
Finally, Mancini spoke about the struggles of Federico Chiesa and Bernardeschi, as well as the problems with fullbacks and the possibility of seeing Manuel Locatelli and Berardi in the list of call-ups for the European championship.
"Chiesa is playing in a position which is not his. He is not a striker, he is struggling. He needs the line, on the wing he becomes devastating. He must think that a great European championship is awaiting him. Bernardeschi? He must give more. He has qualities and has always done well in the national team.
"The fullbacks? Emerson is not playing now, neither is De Sciglio, Florenzi has had difficult moments in Rome, Biraghi is not doing well, Di Lorenzo is playing multiple roles, Spinazzola has quality but is not used much, Lazzari is not a fullback. The moment is a bit like that but I will have to choose from these.
"Locatelli and Berardi? Locatelli has grown a lot in Sassuolo, he can become important for us after the Euros. With the means that Berardi has, today he should be a star of Italian football," Mancini concluded.