Mancini urges Barella to join Napoli or Chelsea and hits back at Salvini over racism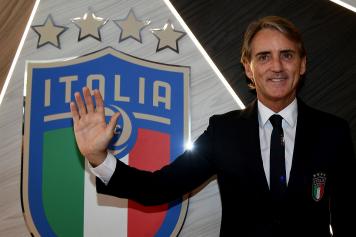 12 January at 11:25
Italy manager Roberto Mancini spoke to
La Gazzetta dello Sport,
about the Serie A and the Italian national team: "This is the league of Ronaldo for now. He struggled a bit at the beginning but now he is helping Juventus".
Speaking about Barella, a top transfer target of Napoli and Chelsea, Mancini said: "He is similar to Tardelli, he has room for improvement and if he joins a big club he's going to further improve".
NT –
"There are no more number 10s like Rivera, Baggio, Totti or Del Piero. Maybe there will be more in the future. Roma's Riccardi or Perugia's Vido are interesting but the latter doesn't have a defined role for now. Zaniolo can be like Pogba, a box-to-box midfielder".
RACISM –
"I hope the Koulibaly case has taught something. Salvini can't minimize racism. If the same thing happens again there will be the need to take serious and drastic action, even actions that penalize the 99% of good people. It's not something that can be repeated, players could stop on their own".
SAUDI ARABIA –
"Women are discriminated also in other countries. Seventy years ago in Italy the situation wasn't much better. The Supercoppa can help the women's condtion. Sport can open doors and help changes. It happened in China with the Olympic games. Football is loved in Saudi Arabia, is a popular sport and women must be respected anytime. Without women, us men would be dead".