Manolas warns Roma after Real Madrid hammering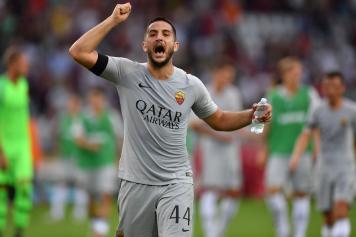 20 September at 17:15
Kostas Manolas was not happy with the way AS Roma played at Bernabeu last night. The defender spoke to Roma TV and made it clear that they were far off the team they actually are and need to work harder.
"The defeat hurts, but were bad,"
said Manolas after the 3-0 loss at Bernabeu
.
"We have to work harder in training to show that we are not the ones we saw. Real Madrid are the strongest team in Europe, but we have to believe more, we are another team compared to that seen today."
"What did Di Francesco tell us? Nothing. Viktoria Plzen and CSKA Moscow? Now we are thinking of beating Bologna, we do not have the confidence, and we can find it again by winning," added Manolas.
The Greece international was surprisingly cheered by the Madridistas at the ground when his name was mentioned in the lineup announcement. His goal that knocked out Barcelona last season is said to be the main reason behind the cheering.