Argentina, Maradona: "We need Higuain..."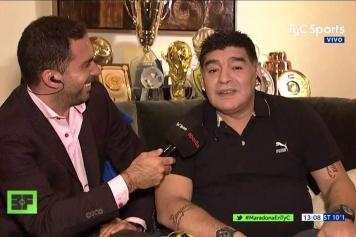 19 June at 21:15
Argentina didn't start this 2018 World Cup on the right foot as they drew Iceland 1-1 in their opening game. Here is what Diego Armando Maradona had to say on the matter as he spoke to the Argentine press
(via Tuttosport) :
" Argentina now have to find their footing. I hope that Sampaoli makes changes. I like Pavon but I think that changes are needed in the midfield too. Aguero? Well I feel bad to say this but I don't think he has 90 minutes in his legs. I think Argentina will regret starting him in the next game. He can be a very good substitute but it is what it is. Higuain? It's Pavon and Higuain's time I feel. Argentina need a big strong central forward who can win the ball and hold up play".
Even if Maradona spoke, Sampaoli doesn't seem like he will listen to the Argentina legend as it seems like he will use Aguero alongside Messi and Pavon from the start for Argentina's next game. Biglia will also start on the bench it seems... . Argentina will be taking on Croatia next.
FOR MORE WORLD CUP NEWS CLICK HERE