Maradona tells all on Messi, Argentina struggles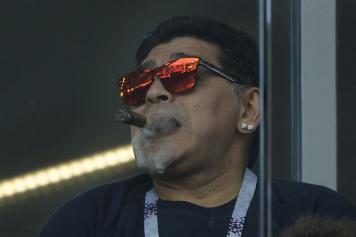 23 June at 14:40
Diego Armando Maradona commented on the defeat of Argentina against Croatia to the microphones of Telesur: "I feel great pain because whoever wore that shirt can not see the national team massacred by a team that is neither Brazil nor Spain, nor Germany nor Holland, I have an anger inside that can not be defined ."
"First of all the president of the Argentine Football Federation, Claudio Tapia, who commands football who knows nothing and left Argentina in disarray, then Sampaoli: everyone believed that he would solve the problems…but Argentina does not know how to play, they do not have a solution for each part of the field, they do not create chances, they do not win the individual battles, and they never have the ball."
On Messi - "He did not play as he could but his teammates never gave him the ball and solving problems alone is difficult."
On Caballero - "He made a world class disaster, but even there he is the fault of the coach.
On the game against Nigeria - "The problem is always us, not the adversary."
Click here for the latest World Cup and transfer news