Marcelo's touching message to CR7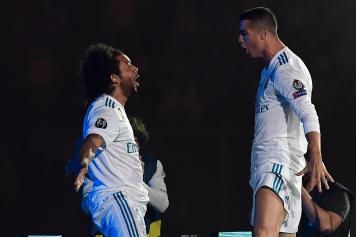 12 July at 17:30
Marcelo has left team-mate Cristiano Ronaldo a wonderful message after his move to Juventus.
The Real Madrid icon left the Merengues after scoring 450 goals for them since 2009, demonstrating the kind of form that often had him touted as the world's best player.
The winner of four Champions League trophies with the Galacticos, CR7 formed a number of special relationships there, including with Marcelo.
​Here is the message in full:
"Who would say it, Cris! It's time for you to go soon...
"I swear I did not imagine that day would come! But nothing in this life is forever, I hope you are very happy in your new club.
"It has been almost 10 years at your side, 10 years of joy, good football, victories, defeats and wonderful moments! I've learned a lot from you, your dedication is the strangest thing I saw in an athlete.
"Everything must be good for you and your beautiful family!
"I'm going to miss our talks before the games, when you got the results right and when before the finals you reassured us with your experience and the love you gave to the youngest ones!
"I am proud to have played with you, not because you are the best player but because of who you are.
"When I stop playing I will sit at the bar to have a beer, tell several stories and show all our photos.
"Saying goodbye, #M12"