Marotta confirms Chelsea bid for Alex Sandro, admits Juve will try to sign Donnarumma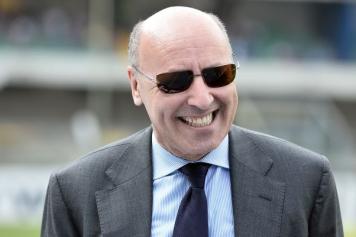 17 June at 09:00
The truth of Beppe Marotta. Juventus CEO and Managing Director speaks of what will be the Bianconero market, obviously starting from the name of the moment: Gianluigi Donnarumma. These are his words reported from Corriere.it: "Case Donnarumma? For clubs it is increasingly difficult to handle these situations. We are faced with a radical change in the figure of the young footballer. Today they have close professionals and begin to program their own career, even in opposition to the clubs that they have grown up in. It is a fact."
But is it right?
"The rules must be changed, and the efforts of clubs on the youth sector must be safeguarded, with a kind of compulsory apprenticeship."
Does Juve consider Gigio?
"It is clear that Juve has the right to look at all the opportunities. When a player is on the market, we have a duty to try."
But behind the choices of Donnarumma, are you there?
"Right now...no."
Is he a top player?
"He's a talent, then he has to break between talent and champion."
Allegri at Cardiff wanted to leave. What did he tell you?
"It was the thought of one night, so much that we did not show anything of ourselves. For us it is one of the best in the world and we still have so much to give to the cause of Juventus."
What goals do you have?
"To still be protagonists looking for the balance between asset, financial, economic and result assets. We have earned more and we can spend more: our firepower has increased."
Will another Higuain arrive?
"No, that was an extraordinary expense. We stay in the ordinary, even though ratings around are crazy."
Will you take Verratti?
"For tactical features and investment he is a profile that does not interest us."
Will you make excellent deals?
"Not by our own will, but we have to face up with clubs that can give higher wages."
On Cuadrado and Bonucci?
"We do not feel like that. For Alex Sandro, Chelsea made a very high bid (60 million). We said no, but today players are masters of themselves."
Will Schick arrive?
"There is still nothing official, but he represents the profile we follow, as a heritage of the future."
What did Cardiff leave?
"Real is a phenomenon of results and turnover, today Real are the strongest, but the 2016-17 season remains one of the most extraordinary in our history and there is great pride for that."
Was there a lot of talk about Bonucci-Dybala?
"I was there. I absolutely deny any tension between players on the field."
Did Dybala disappoint?
"As Mandela said," I win or learn, I never lose, and everyone has learned."
Will you take Iniesta?
"He is not achievable. Sustainability and continuity of the results require respect for the parameters."
Douglas Costa instead yes?
"Thanks to Bayern we have contacted the agents for the player's availability, but the Germans have to be willing to give it and the price must be congenial."
The situation on Keita?
"I've read some of the phrases of Lotito. I know the rules and I would never have approached someone else's name."
Do you mean that at times he is the player he proposes?
"I say that when you find the contract expiring, it's normal to have some effervescence in the players and their representatives, which makes them think of a different future for them."
Mandzukic remains 100%?
"Yes, Marchisio as well."
Neto remains?
"To meet his demands, he is on the market. If he goes to Milan? We have not had any offers for now."
Italian football how is it?
"The model of the patronage has disappeared, and that of foreign investors is exclusively business, so the sense of belonging can really make a difference." Among the big ones we and Napoli have to hold on."
Do your opponents stimulate you?
"After six Scudetti, the challenge must be more adrenaline: the strongest the best opponent is to beat it. When it starts to win: it is compulsory."
Would you trade the next Scudetto for the Champions League?
"No, but it is certain that that Cup is one of the goals we want to achieve."
Have you told many lies in this interview?
"Some white lies, which do not hurt."