Marotta "We have to win the Champions League"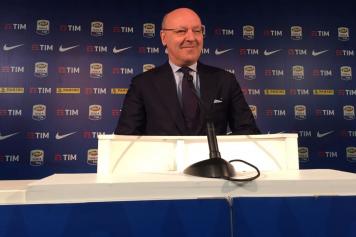 20 April at 19:20
Juve's managing director Giuseppe Marotta spoke after the Bianconeri's game against Barcelona. Here is what our colleague has collected:
ON ADVANCING - "There is great satisfaction and the awareness that we have deserved this qualification. It is the result of a great work culture of all corporate components. So, first of all, for the company, the players, the directors and all our fans."
ON THE DRAW FOR THE NEXT ROUND - "They are all strong teams, every one of them have pros and cons. Qualification has been rightly emphasized as a business, in fact I think it's still nothing if we do not get to the winners podium. There are still two obstacles to overcome and we want to get there as winners. We will be an important effort, we have an equally important month for the Scudetto. It is also a very important seasonal goal, so it is certainly difficult to challenge to all three fronts."
ON INTERNATIONAL MENTALITY - "I believe that a strong characteristic is a strong acquisition of an international mentality. It has grown in society, but above all in the players in their choice. They represented the right profiles for this mentality, they were world champions, they won the Champions League in the past. This has been a positive contagion with our colleagues. We have come up with this feature coupled with an important game quality."
ON ALLEGRI - "I believe in him very much, the club has been good at supporting him, he has been good at shaping players to make them win over these years, and apotheosis has been qualifying yesterday, and I also think that in three years with him we have reached two semifinals, one final and last year we all know what happened in Munich. In modern football I think it is important for a trainer to have psychological aspect, to be a manager of men and in this he was very good."
ON A FAVORED JUVE - "Yes, I agree with Bonucci. We no longer fear our opponents. A mentality that had disappeared after the 2006 cyclone, with the advent of Andrea Agnelli's new cycle we grew up Year after year to come today to be proudly among the top five, six in Europe. "
RENEWAL OF ALLEGRI - "Beyond a mere formal aspect of a contract that expires in 2018, that for managers and coaches is little, I believe that the most important aspect of the relationship with Allegri is to help everyone. It's a well-started cycle, which is continuing well, and we do not see anything horrible enough to think about interrupting this marriage that is beneficial to everyone. When two realities are in common, it seems to me to be secondary to the problem."
ON DYBALA - "Dybala is a champion no doubt but the merits go to all the players, even to those who played little in this Champions. Dybala is a young man who has become a reality, this makes us proud of the choice we made. Who had also been criticized for the timeliness with which we had reached the agreement. We paid an important figure, but we knew we had made the right choice."