Mbappé: 'I have good feelings about Liverpool, I watched Serie A before Ronaldo'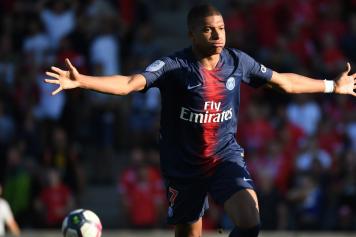 14 September at 11:25
Kylian Mbappe is not settling down after winning the World Cup with France, he wants the Champions League now. The French striker said to
Gazzetta Dello Sport:
"I am proud to represent Michael Jordan's brand and philosophy in the world. For me it is an exceptional opportunity, but it is also an important responsibility. You
have to live up to it on the pitch. Jordan is an example for everyone, whether you are a simple sports fan or a professional footballer.
It's normal that it's a source of inspiration for me too. However, the golden ball is not a fixation. I prefer to concentrate on the pitch, to give the maximum I could give to be performing at a high level and to improve my level. Then, we can see where all of this will take me."
"Playing on Tuesday at Anfield against a big European club is the ideal way to debut the new kit. Of course
Liverpool is one of our main rivals, but I have good feelings about it. I think we're ready to do something big and positive.
Our group is complicated, but this is the nature of the champions who want to win it because it is the most prestigious trophy in Europe. Against Napoli it will be tough, Ancelotti makes his team play well with a certain philosophy and high pressing.
Also in Napoli their fans are spectacular. My memories from there aren't really pleasant. In a friendly in 2016 with Monaco we lost 5-0 to Napoli, I know exactly what I'm talking about.
If we fall asleep on the pitch they are certainly not waking us up. If we want to win, we must give our best."
"Cristiano Ronaldo to Juventus? First, he brought back the Italian football to its place. Serie A has always been a great league, but lately it lost some of its prestige. With Ronaldo in the league, people will be passionate again about Serie A. I already follow Serie A, but with Ronaldo in the league I will now follow it with more passion. Ronaldo brings something great to Juventus, although the
Bianconeri did not lack much to be complete. Ronaldo will give them an extra force in the finals and all the great teams will have to study Juventus more carefully.
You can't do something differently if you find yourself in front of a player of his caliber. It is also a great opportunity for Ronaldo, it's a win-win situation for both Juventus and Ronaldo. Together they can achieve their goal in the Champions League. PSG-Juve in the final? I put my signature."