Report: Sarri is close to Chelsea as De Laurentiis is ready to reduce his demands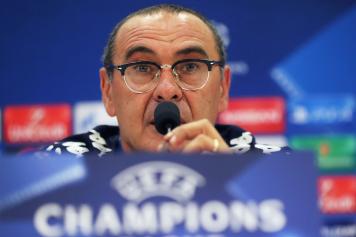 22 June at 22:22
Maurizio Sarri has been "close" to Chelsea for some time now but nothing has been confirmed yet. According to
Mediaset (via AreaNapoli.it)
, it seems like a deal is very close to occuring between Chelsea and coach Sarri. Napoli president Aurelio De Laurentiis currently has two coaches under contract (Carlo Ancelotti and Maurizio Sarri) but this could soon change.
ADL READY TO ACCEPT LESS - Let's not forget that Maurizio Sarri had an 8 million euros release clause in his contract but it now seems like De Laurentiis is ready to accept less. It is reported that ADL is ready to accept 5 million euros from Chelsea for Sarri instead of the 8 million euros that he had been asking for. Still according to
Mediaset
, it seems like the coming day could be a crucial one on the Chelsea-Sarri front. Zola might also be in Sarri's staff but time will tell. The soon to be ex-Napoli boss is coming off a record breaking point season with his Napoli team.