Meet Serie A's most underrated sporting director: Lazio's Igli Tare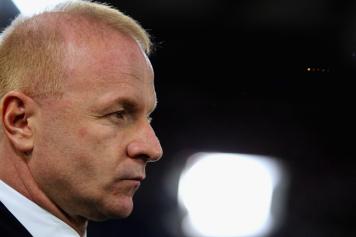 14 November at 13:35
What if I told you the same Serie A team has the leading goal scorer in the league, the most improved player as well as the midfielder with highest resale value in Italy? You have probably figured out I'm talking about Lazio, and while Ciro Immobile, Luis Alberto and Sergej Milinkovic Savic have been sensational, there's even margin for improvement for the biancocelesti.
But what is the secret to Lazio's success? While Monchi's arrival to Roma was celebrated as the beginning of a new cycle after Francesco Totti's retirement as well Luciano Spalletti's departure for Inter, his counterpart at cross town rivals Lazio, Igli Tare, is the sporting director who should be getting the attention one third of the way into the Serie A season.
Tare was able to make up for the losses of key players like Lucas Biglia and Keita Balde this summer and his team hasn't skipped a beat. Biglia, the biancocelesti's former captain and a midfielder with over 50 caps for Argentina, left for Milan where he has struggled to establish himself. After a dramatic summer that saw him linked to Juventus,
Milan, Inter and Napoli, Keita Balde was sold to Monaco for around 30 million- he was just the latest example of a player with an expiring contract that Tare was able to turn into a significant profit (Candreva and Hernanes had previously fetched over 40 million combined despite being at tail ends of their primes).
Tare was able to replace Biglia with Lucas Leiva at a fraction of what he received from Milan for the Argentine international, the former Liverpool midfielder's performances have been very convincing and he's also been an excellent leader at the club- many were surprised at how quickly he had learned his teammates' names to better interact during practices.
​While losing Keita Balde appeared to be a massive blow on paper, Lazio had his replacement in house in Luis Alberto. But before his excellent performances this season, the former Liverpool winger looked like the second coming of Ravel Morrison- a highly rated prospect who had yet to fulfill his talent at the pro level. In his first season in Serie A, Luis Alberto appeared in only 9 matches- he seemed well on his way to being "un oggetto misterioso" like Morrison.
Luis Alberto established himself early in the season while Felipe Anderson and Nani weren't ready to play in games, he was a starter for Lazio's win against Juventus in the Super Cup last August and Simone Inzaghi refused to go without him since. Luis Alberto has developed excellent chemistry with Ciro Immobile and could form a very dangerous offensive trio with Felipe Anderson once the Brazilian winger returns after the international break.
​While Lazio lost two significant players in Biglia and Keita Balde, they were able to hold on to Stefan de Vrij despite interest from Premier League teams and Inter. When healthy, the 25 year old Dutch defender is one of the best center backs in all of Serie A, it will now be very interesting to see if Lazio will be able to extend his expiring contract- but there are some encouraging signs.
Less than a month ago, Lazio announced extensions for keeper Thomas Strakosha, one of the best in Serie A since replacing Lazio's long time starter Marchetti, as well as striker Ciro Immobile- in a recent interview, De Vrij indicated that Lazio showing they can keep key players would likely be a factor in his decision (it's possible that he'll sign a short term deal with Lazio to ensure his current club doesn't lose him for free in exchange for an exit clause below 30 million which would give him options in case he wants to leave for a bigger club).
While there is some uncertainty with De Vrij's future at Lazio, Tare deserves a lot of credit for making sure his club is in a position of strength with Sergej Milinkovic Savic. Last April he signed the Serbian midfielder to an extension, and more recently he paid his former club Genk about 10 million euro to erase the option that would have seen them receive 50% of his future resale.
​But while Tare deserves a lot of credit for the moves he made, he also got a huge break when Marcelo Bielsa changed his mind. The Argentine manager had been officially announced as Lazio's new manager in the summer of 2016, but at the last second, he decided against coaching the club. Tare instead made Simone Inzaghi the permanent manager, Pippo's brother had taken over the previous season when Pioli was sacked, had Bielsa actually arrived at the Formello training facility, Inzaghi would likely still be coaching at Salernitana, the other club owned by Lazio president Lotito.
​While Lazio are already off to a great start to the season, they will likely improve thanks to Felipe Anderson's return. Last season Simone Inzaghi used him in a more defensive role, while his stats suffered as a result, he helped ensure that both Immobile and Keita had career years. It will be very interesting to see how he'll compliment Luis Alberto the rest of the way- if that weren't enough, Inzaghi will also be able to count on Nani who is finally rounding up into game shape.
​While there is some uncertainty with de Vrij and Milinkovic Savic's futures at the club, recent history suggest the club will likely receive very substantial returns should they leave and that Tare' has shown a Monchi like ability to discover great talents to replace them.
@DavidAmoyal
David Amoyal