Messi at 30 - 30 moments that defined a career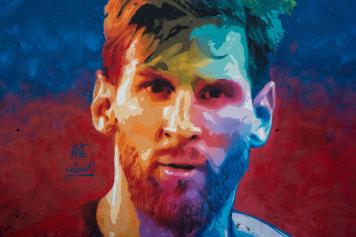 24 June at 14:30
Some people would say he's the greatest player the world has ever seen and today, Argentine superstar Lionel Messi turns 30. The little magician has had supporters off their seats for over a decade now with some of the most mesmerising skills ever witnessed on a football field. Here we have compiled 30 moments that defined a champion:

14 December 2000: Carles Rexach meets with Josep Maria Minguella in a restaurant in Barcelona and Messi is given his first professional contract. The player signs from March 1 2001 to June 30 2003.

16 November 2003: Messi makes his debut for Barca in a friendly against Porto. They lose 2-0.

1 May 2005: Scores his first goal against Albacete in matchday 34

2 July 2005: Wins the Under-20 World Cup with Argentina and is voted player of the tournament.

17 August 2005: Debuts for the full Argentina national squad in a friendly against Hungary.

2 November 2005: Scores his first goal in the Champions League against Panathinaikos
​
18 April 2007: Scores a "Maradona" style goal from the half-way line in the Copa del Rey quarter-final against Getafe.

9 June 2007: Scores a Maradona "Hand of God" goal in a league derby against Espanyol.

23 August 2008: Wins an Olympic gold medal in Beijing with Argentina.

2 May 2009: Scores a brace as Barca hit Real Madrid for six at the Santiago Bernabeu.

27 May 2009: Scores his side's second goal against Manchester United in the Champions League Final in Rome.

1 December 2009: Wins his first Ballon d'Or ahead of Ronaldo and Xavi.

19 December 2009: Scores the winner in the World Club Cup Final against Estudiantes.

6 April 2010: Scores all four of his side's goals against Arsenal and wins the Champions League Golden Boot and Pichichi title in La Liga.

10 January 2011: Wins his second Ballon d'Or

28 May 2011: Scores one of his side's three goals as they beat Manchester United in the Champions League Final at Wembley.
18 December 2011: Scores a brace in the World Club Cup Final against Santos as Barca run out 4-0 winners.

9 January 2012: Wins his third Ballon d'Or

7 January 2013: Wins his fourth Ballon d'Or

13 July 2014: Loses World Cup Final to Germany in Brazil.

6 June 2015: Wins another Champions League with Barcelona as they beat Juventus in Berlin

4 July 2015: Loses Copa America Final with Argentina on penalties against Chile.

22 November 2015: Scores three goals against Sevilla taking his tally to 253 in La Liga to claim a new Spanish scoring record.
11 January 2016: Wins his fifth Ballon d'Or.

14 April 2016: Messi does a "Cruyff" and elects to pass from the penalty spot to Luis Suarez in Barca's 6-1 demolition of Celta Vigo.

19 June 2016: Becomes his country's all-time leading goalscorer scoring 55 goals and surpassing the record set by Gabriel Batistuta.

29 June 2016: Loses Copa America Final again on penalties to Chile and misses his kick.

17 April 2017: Scores his 500th career goal against Valencia.

6 July 2016: Charged by the courts for tax evasion and given a 21-month suspended sentence.

23 April 2017: Scores the last minute winner in El Clasico at the Bernabeu then takes off his shirt to display to the Real Madrid crowd.