Messi's telephone celebration sparks transfer speculations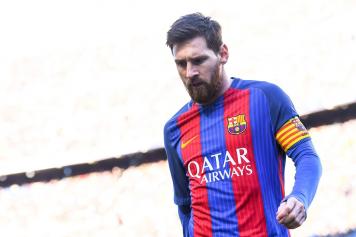 06 March at 16:44
Lionel Messi scored a brace in Barcelona's 5-0 win over Celta Vigo last week-end and his telephone celebration has sparked transfer rumours. The Argentinean star, in fact, explained after the game that the celebration was dedicated to his nephew who hadn't picked up the phone before the game when the 29-year-old star was trying to call him to wish him happy birthday.

Today's edition of La Gazzetta dello Sport, however, insists that there could be a different explanation for Messi's unusual celebration. The Argentine star's contract expires in 16 months and the club have yet to reach economic agreement over Messi's new deal. Therefore, his call could have been directed to Barcelona's board rather than to his 16-year-old nephew.

​Although Spain correspondent Filippo Maria Ricci states that it will be difficult to see Messi leave the Nou Camp for free in one year time, the fact that he has yet to reach an agreement with his club means that his future is still in doubt. The Italian journalist also claims that Messi is not on very good terms with Luis Enrique but this problem will be solved at the end of the season when the Spaniard will leave the Nou Camp.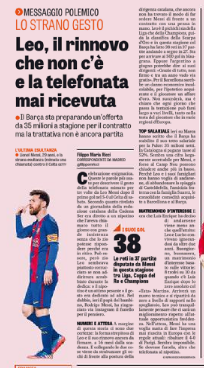 Fox Sport's Stefano Borghi also confirms that new contract talks have been put on hold and that Barcelona need to free up cash to afford Messi's new contract given that the LaLiga giants have just extended the stays of both Luis Suarez and Neymar who are also big earners at the Nou Camp.