Messi unhappy after Juventus loss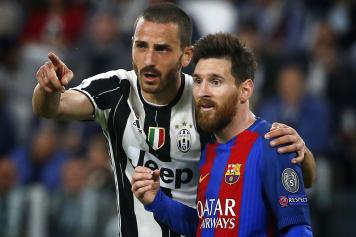 20 April at 20:35
Not going through. Last Wednesday, FC Barcelona experienced one of the most bitter nights of the season. Against a very well positioned Juventus, the set of Luis Enrique could not do anything to overcome the tie. Reports from Spain detail the effects of the match:
With a draw to zero on the scoreboard, the Catalans said farewell to the treble dream. After the epic battle against Paris Saint-Germain, Barcelona hoped to score three goals against the Italians. All this optimism disappeared in the 90th minute.
Not a single goal could the Catalans score. Massimiliano Allegri put forward a most defensive game, and this was the reason why the Barça could not cross the lines of Juve. Neither Messi nor Neymar nor Suárez nor Iniesta managed to give wings to the Barca hope.
Messi takes the baton
This bad night lived in the Camp Nou has opened pandora's box. Not qualifying in the semifinals of the Champions is a great hit for the heavyweights. Especially Leo Messi is touched with this elimination.
And that it is to be on the individual cusp, personal performance must go hand in hand with group titles. Therefore, to stay out of the top European competition is a hard blow that has not left the Argentine indifferent.
So much so that the star of Rosario has already manifested his first reactions. According to unveiled sources close to the Barcelona box office to which Gol Journal has had access, Leo has not hesitated to point out the great ruling that is committing the team.
According to the 'capo' the issue to be resolved is in defense. Gerard Piqué is not being the decisive and regular leader of the last months. The veteran has his more and his less, so he needs a partner that complements 100%.
Samuel Umtiti has arrived relatively recently, so he has not yet managed to get together as he should with Catalans. Piqué and the French center are capable of years together as a brilliant couple. The defensive tandem should be reinforced.