Mike Grella moves closer to Juventus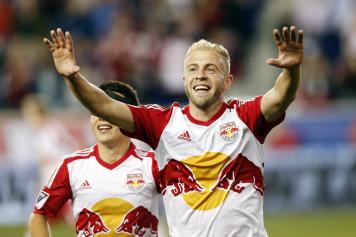 16 December at 17:25
Former Leeds playmaker Mike Grella has spent the last three seasons playing with his (relative) hometown club, Red Bull New York. Since his arrival in 2015, Grella has become a fan-favorite while on his way to winning a Supporters Shield, playing in an Eastern Conference final, and engineering one of the most gif-able moments in MLS history – when he nutmegged Frank Lampard of arch-rival New York City FC.  
bye #NYisRED pic.twitter.com/VGkNewQ8Nn

— New York Red Bulls (@NewYorkRedBulls) February 2, 2017
That's why so many MLS fans were upset when they learned the Colorado Rapids had acquired him on Friday. His stay with the Rapids was short, however, as only minutes later he was traded to the Columbus Crew.
With the Crew, he will be expected to provide support for their three-headed attack of Ola Kamara, Justin Meram, and Federico Higuain. For Grella, having the opportunity to play with one of the league's top playmakers in Higuain is only part of the story.
The native of Glen Cove, New York has been a lifelong supporter of Juventus. An Italian-American, Grella relished the opportunity to watch the Bianconeri play as a child. Now, he'll have the opportunity to play with the brother of Juventus' top striker, Gonzalo Higuain.
While it's little consolation for having to alter his life and move away from his family, gaining a direct connection to the club he loves must provide him with a little extra boost as he adjusts to the next chapter of his life.
Matthew Klimberg