Milan: Berlusconi wants Robinho!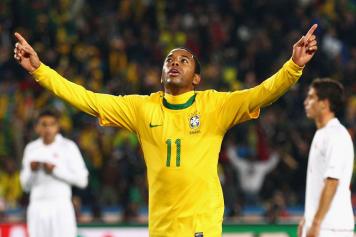 30 August at 09:00
And it doesn't end here... Milan gave a great performance against Lecce and start the competition for the Scudetto. Silvio Berlusconi enjoyed Pato's goals, Ronaldinho's magic, and Ibrahimovic's promises.
Pushed by the fans' enthusiasm Berlusconi might give the OK for another acquisition: the Brazilian Robinho of Manchester City. To make room for him would be Huntelaar (Schalke) and/or Borriello, wanted by Juventus. Berlusconi himself confirmed: "Perhaps we will acquire another attacker. Robinho? Who knows... It doesn't depend on us... Where he could play? We have many possibilities and it is better to have three players for two roles. Is Borriello leaving? I don't know, he will decide".
On Ibra: "It is since the days of Van Basten that we lack such a forward".
Ronaldinho for life: "He's the no. 1 in the football history, he'll stay here many years and will end his career at Milan".
Then he was sharp with Leonardo: "Pato is no more a young player, he's a great player. Eventually, he plays near the goal and it is not by chance that he scored two goals. I didn't agree with Ancelotti and Leonardo when they told him to play on the right side. Allegri is a good and expert coach. He is open with the club and he was very welcomed by the team."
C.G.