Milan directors meet with agent of Atalanta players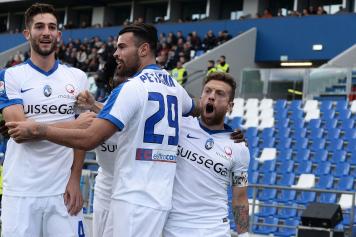 19 May at 20:50
Giuseppe Riso, agent of players of Alejandro "Papu" Gomez and Andrea Petagna, protagonists of the wonderful season disputed by Gasperini's men, met in the afternoon at Casa Milan with the leadership of Rossoneri, as noted by Calciomercato.Com's Daniele Longo.
INTENSIFIED CONTACTS FOR PAPU - The contacts are intensifying with regard to Papu: the 29 year old striker wants a big club, and Milan is thinking about him seriously. Today's meeting is a signal from the point of interest of the Rossoneri club. The Argentine is in fact at the top of the wish list of Massimiliano Mirabelli, who is trying to understand how much to offer Atalanta. Papu's price tag should go around 15 million EUR, considering it is due to expire in 2020 with the Bergamo club, and that he's almost 30 years old.
PETAGNA AND BASELLI - Milan also talked with Riso about the future of Andrea Petagna, a powerful striker born in 1995, to see if Atalanta intends to keep the young attacker. The Rossoneri club has in fact 50% on the future reselling of the striker this year, having raised him in their youth sector, which will become 30% next year. It was decided to leave Petagna out of the talks for Kessie, but now Rossoneri have been promised. The percentage that Milan will have to obtain on the possible transfer of Italian will not be increase the price for the Ivory Coast midfielder. The Rossoneri are considering whether to bring him back to Milan, perhaps letting him stay on loan in Bergamo for another year. Moreover, there was not just talk about Petagna, but also about for 25 year old Torino midfielder Daniele Baselli, longtime Milan goal for the midfield.
VRSALJKO IN SIGHTS - With Riso, the meeting also went on Sime Vrsaljko, the Croatian who just last year moved from Sassuolo to Atletico Madrid, but has been sparingly employed this season, partially for a serious injury to the knee. The Rossoneri have asked for information on the outside defender, who has always been appreciated in Via Aldo Rossi.
DISCUSSIONS ON YOUTH: ZANELLATO AND ... - There was also talk of another player under Riso, midfielder '98 Niccolò Zanellato, who from Primavera should be promoted to the first team next season. There were several talks about the youth sector: Riso is in fact the agent of several Rossoneri young players, and the point has also been made to understand what their future is. The Rossoneri market never sleeps, and today's meeting proves it further.