Milan face sales of Bonucci, Donnarumma and Suso – Manchester United, Chelsea linked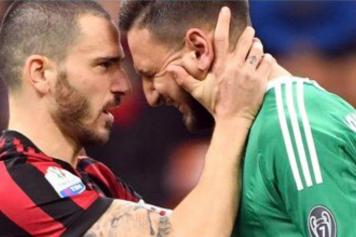 11 July at 09:45
To say that AC Milan are facing turbulent times is somewhat of an understatement. The club fell way below expectations of them in the 17/18 Serie A season; qualifying for the Europa League when it was widely thought they should be qualifying for the Champions League.
Because they fell below expectations and didn't achieve the monetary benefits of qualifying for the Champions League, they were reprimanded by UEFA for breaching Financial Fair Play regulations.
UEFA have banned Milan from continental competitions for the upcoming season, yet Milan have appealed the decision and await a final confirmation on the ban. If the ban goes through, Milan face losing three stars who will want to be playing in continental competitions next season: Gianluigi Donnarumma, Leonardo Bonucci and Suso.
Donnarumma is reportedly linked with a move away but only if either Manchester United or Chelsea lose De Gea or Courtois respectively. Agent Mino Raiola is seeking to protect Donnarumma's place and is working closely with Milan to ensure he remains in red and black. Leonardo Bonucci is a high-profile target for both Manchster United and Paris Saint-Germain and, with Romagnoli signing a new contract, the Milanese captain could be on his way out.
Finally, Suso. Mirabelli claimed that Suso would not be on the move, yet the player has a €38 million release clause for non-Italian clubs, which could be the only way he leaves the club.
For more news, views and features,
visit our homepage.
@snhw_