Milan, Galliani: 'Deulofeu? I won't tell you what Barcelona said ...'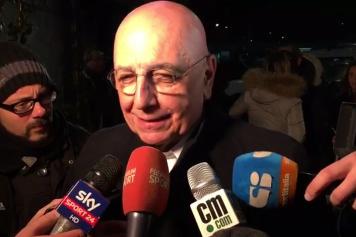 09 April at 19:15
After Milan's win versus Palermo, Adriano Galliani spoke to
Milan TV
, here is what he had to say:
"Our midfield did very well today which is very important. Kucka had a tremendous game for sure. We created a lot of chances and deserved to win 4-0. We need to be able to score more goals since we are a little behind in this category".
SUSO -
" Suso is very important for us , it is too bad that he wasn't available over the past month. I spoke to the president and he too was very pleased. If this was our last game at Milan then it was a good one and we will surely remember it in our hearts".
CLOSING -
" In 31 years at Milan we were able to allow the club to become one of the best teams in the world. Tomorrow I will meet with the president, I am very happy of how today went".
AGAIN ON SUSO -
" Suso's goal was great. Suso, Deulofeu and Pasalic have all arrived here for practically nothing. I think we did a pretty good job with them. Sosa also is proving his worth. We have had many injuries this season but we are still doing pretty well".
INTER -
" We have a great understanding with them and it was nice to play a game at the same time as them".
DEULOFEU -
" In June I don't know if it will be me who will be in charge of the transfer market so I can't say nothing. I spoke some managers of Barcelona but I won't tell you what they told me .... (laughing)".
DERBY-
" If the onwership change does occur then I will watch it on TV. I will always be a Milanista".
Jean-Luca Mascaro (@CalcioNews89)