Milan, Gattuso speaks: Bacca, Andre Silva, Europa League and Zaza – the details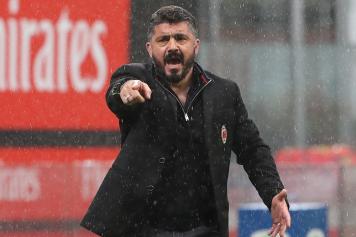 09 July at 18:30
AC Milan's season began officially today; and head coach Rino Gattuso held a press conference today, speaking about the future, however turbulent, of the club.
CalcioMercato.com has collected the key quotes of the conference…
ON THE SEASON'S OBJECTIVE: "We'll see, the basics are important, I cannot deny what has been said in recent months. To strengthen the team? The board know what types of players I like, considering that the other teams have strengthened too. I hope someone arrives otherwise I'm fine."
ON THE SELF-FINANCIAL MARKET: "I have always said that it takes an external attacker, a mid-wing with the characteristics of Kessie. We have Bacca, Kaliniic, Andrè Silva and Cutrone: if these attackers do not move, nobody will come".
ON THE GOALKEEPER: "I will pick he who plays better, it will be difficult to choose ... "
ON ANDRE SILVA: "The field will speak for me right now I'm talking about Bacca: 'I hope you get tired, sweat and want to leave, if you have to stay here, you have to do as I say and not as he says.' What Cutrone can give me? André knows that he has to wake up, it's been a year and what he did is not enough, you do not know who will start, in my head I know what they can give me."
ABOUT BUFFON: "I would have never thought of seeing him again as a protagonist at 40 and he has joined a glorious club like Psg, one of the biggest, I was surprised. In 2010 he had his back to pieces, everyone said it was over and instead we are here talking about him today."
ON HALILOVIC: "How many midfielders do you see that are playing as a mezzala? I see him there. He played in that role, he has different characteristics: less incursions of race, but more technical. "
ON ZAZA: 'We have Patrick who has the same characteristics. If no attacker leaves, no attackers arrive. "
ON THE KALINIC WORLD CASE: "He only made one wrong step, he always suffered at the pubic level, he was bothered, and when he left here he was not honest with his trainer. I talked with him. It is not easy to train him, but he is very sensitive, he does not bear a grudge. When those around him always talk to him, they know how to behave. The biggest mistake he made is not to be honest with his trainer."
For more news, views and features,
visit our homepage.
@snhw_