Milan meet with agents of potential Donnarumma replacements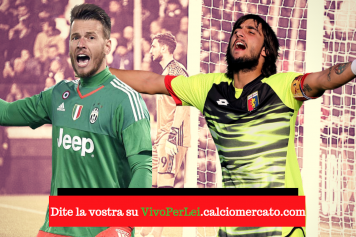 19 June at 20:20
As reported by Daniele Longo, sent to Rossoneri headquarters, Milan are keenly looking for a Gigio Donnarumma substitute, although the 18 year old may remain in Rossonero until June 2018, Fassone and Mirabelli want to be careful with the purchase of a player to avoid any ugly surprises and plan the season better. The two hottest names are Mattia Perin, the keeper for Genoa, and Norberto Neto, the Juventus back up.
THE ECONOMIC DETAILS - The Rossoneri leadership this afternoon is having some meetings with the agents of these goalkeepers: the two agents, Alessandro Lucci and Stefano Castagna, will meet Mirabelli to try to tighten the ropes and especially to lower the economic demands of the two clubs of origin. Both Perin and Neto want to wear the Rossoneri colors. For the first Genoa asks for 15 million EUR (and there is a gap on the formula: the Rossoblù want 10 + 5, the Rossoneri offer it 7 + 8). For the second Juventus ask for 10 million EUR.
18.00 MEETING WITH THE NETO'S AGENT - Stefano Castagna, agent of Neto, left Casa Milan after meeting with Massimiliano Mirabelli, director of sport of the Rossoneri. A comment to Calciomercato.com's microphones. "We had a nice chat, now we will see."
16.15 MILAN WAIT FOR DONNARUMMA TO CHANGE COURSE - According to Sky, Milan wants to wait another three or four days for the final choice of Gigio Donnarumma. For this reason they are evaluating different tracks. Perin remains the closest, but Milan is not in a hurry to close, so they continue to talk to other agents.
16.10 TERMINATED MEETING WITH LUCCI - The meeting between the agent of Perin, Alessandro Lucci, and Massimiliano Mirabelli is over.