Milan, Mirabelli speaks on Immobile, Donnarumma, Morata – the details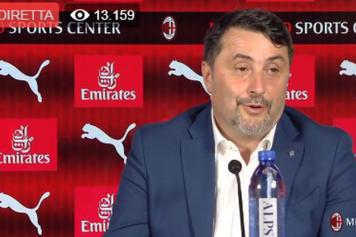 09 July at 19:30
It was the first press conference of the new season for Massimiliano Mirabelli today as he gave some updates regarding the current situations which are ongoing at AC Milan:
ON THE CHANGE OF DIRECTORS: "I will speak on it soon. It is a reasoning that deserves more space than a simple answer. It is normal for an owner to arrive and it was decided to make a management team that could go on."
ON SUSO TO INTER - "As far as I'm concerned, prosecutors can talk but I can categorically rule out going to Inter. It has a foreign clause but he has always stated that he wants to stay at Milan and we trust in this."
ON THE BIG DEPARTURES: "No player and no agent has come to tell us they want to leave Milan. We are at a stage where we should understand according to the parameters of Milan for what happened to us, we should make a zero-balance market. We have ideas for ins and outs but we do not need to make big sales unless someone tells us they want to leave. "
ON THE CHANGE OF BUDGET WITH EUROPE LEAGUE - "It is normal that participation involves more or less income, you can do something with more or less. As Rino said, we won on the field and we hope that we will not be missing the Europa League; if we do we must invent something more "
ON THE ASSIGNMENT OF THE GOALKEEPER: "We do not go to our market to sell out players, we have a lot of players to the attention of so many clubs, only someone will come out if the manager's agreement is found, in case of advanced negotiations, he will say yes or no to a sale."
ON RENEWALS -" Of the boys, the players, that we have to renew it is only one of the youth sector. there are players with fairly long contracts and in a few months we will be at the table with others, like Bonaventura, to keep them as much as possible at Milan "
ON MORATA AND IMMOBILE- "We have never made any names to deceive someone, and when some striker comes out, there will have to be a few more attackers than we have and functional to the game that Rino has in mind. We are aware of the dynamics and market players. However, we are still dying to say which player the fans should dream of - we have to keep our feet on the ground and the fans must know that there is someone here who works round the clock for the good of Milan ".
For more news, views and features,
visit our homepage.
@snhw_