Milan news: Liverpool target Donnarumma in surprise swoop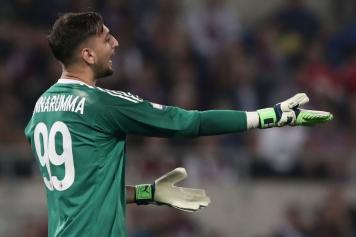 15 May at 13:50
Liverpool are also in the race for Gianluigi Donnarumma, according to the latest reports from Italy.
The Corriere dello Sport claim that the Anfield side - which is set to face off with fellow suitors Real Madrid in the Champions League final - could countenance a move for an alternative to Loris Karius.
Donnarumma is also liked by the likes of PSG and Barcelona, as well as Manchester United.
The Milan goalkeeper is expected to make a move according to certain reports this summer: he is unpopular with Rossoneri fans and agent Mino Raiola has repeatedly angled for a move.
The 19-year-old made waves last summer by initially refusing to sign a new deal with the club, before eventually agreeing to one. Though he has had a good season, he made a couple of horrible mistakes in the Coppa Italia final with Juventus, and was treated with hostility by Milan fans at the weekend.
Liverpool are reportedly content with Karius, but could always splurge for an alternative.
Milan won't be Champions League contenders next season, and may also have Financial Fair Play issues in the summer because of their massive spending at the start of the season.
The goalkeeper is set to cost around €70 million.