Milik contradicts Napoli doctors: 'I hope to be back in Spring'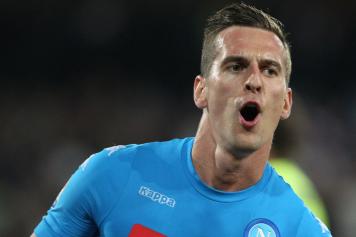 07 November at 14:26
Arkadiusz Milik's horrible ACL tear has already caused irreperable harm to Napoli on the field.
The Polish international now claims that he could well be out far longer than the 3-4 months Napoli had anticipated, saying that he "hoped to return in Spring".
Never something to kid around with, ligament tears are a horrible business, just ask Kevin Strootman.
Speaking to Sportowefakty, the former Ajax striker confessed to have "cried when I was told of the diagnosis".
"I don't want to go overboard on any predictions, or be rushed, I still have a long career ahead of me. What I will lose now I will gain later, I'll be back when the doctors judge me to be 100% recovered. Let's hope this happens in the Spring".
This easily contradicts what Napoli's doctors had said, even respected professor Mariani claiming that he "could be back in 99 days". Milik's agent had him "returning in January".
Napoli will really have to sort out their attacking situation, because it looks like their young star isn't returning any time soon.
Milik, 22, scored 4 Serie A goals in 7 games before going down with an ACL tear on international duty.

@EdoDalmonte