Milinkovic-Savic: linked with Real, Barcelona, Juve and Man Utd, where next for the Serbian?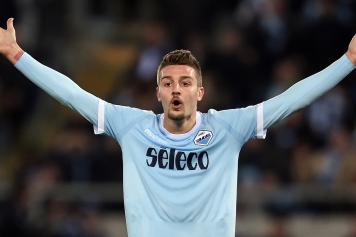 19 June at 22:15
Alongside the World Cup, Sergej Milinkovic-Savic is undoubtedly one of the hottest topics in world football. After an excellent season with Lazio, the 23-year-old Serbian midfielder is currently at the World Cup, making his tournament debut for his nation side. Milinkovic-Savic's performances have been so impressive that he has been turning the heads of Europe's elite clubs.
Barcelona, Real Madrid, Juventus and Manchester United are the teams reported to be interesting and the talented Serb can bring something different to each of these sides. So, the questions arise as to where next for the young midfielder? Which club needs him most? How will he fit in? Or, perhaps, will he remain at Lazio?
The Spanish Option
In Spain, the primary team in pursuit of Sergej Milinkovic-Savic is Real Madrid. Madrid are eager to bring the Serbian to the Spanish capital, and certainly have the financial power to do so. Luka Modric, 32, is coming into the twilight years of his career and the likes of Kovacic do not match Real Madrid's high standard for starters just yet.
Sergej would fit well into the Madrid team and would offer them a driving force in midfield, the likes of which Luka Modric and Toni Kroos lack - the physicality and speed of the Serbian giving him the advantage. A move to Madrid could see negative consequences on Milinkovic-Savic's career, as we have seen with the over-hype of past players – Martin Odegaard, for example.
Barcelona face a similar problem as Madrid, with an ageing midfield; and one with an Andres Iniesta-shaped hole in it. Ivan Rakitic is 30, Paulinho is 29 and Barcelona need to strengthen their midfield. The Catalan club have missed out on Antoine Griezmann and the thought is that they will now target Milinkovic-Savic to play alongside Messi & co. It is likely that Milinkovic-Savic would have less competition for a first team place at Barca, especially with Andre Gomes also heading for the exit.
Tactically, although Milinkovic-Savic is less of a playmaker than Iniesta, he can certainly add a lot to Barca's squad. They are different kind of midfielders but the problem is whether or not Coutinho and Milinkovic-Savic are too similar. For Barca to consider spending €140m+ on another attacking-midfielder, just months after spending that much on Coutinho, it is a big stretch.
The English Option
Attention in Milinkovic-Savic from England comes from Manchester United, with it being said that Jose Mourinho is a huge fan of the 23-year-old. Despite murmurs from Manchester City and Arsenal, Man Utd are responsible for the English noise around Sergej and, like Real and Barca, possess the financial ability so sign the Serbian.
The question with the paring of Milinkovic-Savic and Manchester United is whether he is too similar of a player to Paul Pogba; who Manchester United sign from Juventus for an astronomical fee. Many Manchester United fans would rather see other parts of their team strengthened, which is a valid point. However, Milinkovic-Savic can work alongside Pogba and would create a lot of space for the Frenchman by straying out wide and holding up play.
With the reported departures of Marouane Fellaini, Ander Herrera and possibly Juan Mata, Manchester United will have space in their side for Sergej; it is just if the club are willing to meet Lazio's demands.
The Italian Option
Juventus have been one of the most interested clubs in Milinkovic-Savic so far. The Old Lady appear to be extremely interested in signing the Serbian, even if they may lack the financial power to do so. The player's father has even been encouraging his son to sign for Juventus, much to the displeasure of Lazio fans.
Juventus would perhaps be the perfect match for Sergej, if he were to leave, as the Turin-based club failed to replace Paul Pogba and face the possible outgoings of Miralem Pjanic and Claudio Marchisio. Juve will need to sell if they are to be serious contenders for Milinkovic-Savic but the Serbian would settle well at the club. Remaining in Serie A would help the player continue to develop; without having to adjust to a whole new style of play in another league.
On the topic of remaining in Serie A, however, comes the last option: to remain at Lazio. Lazio president Claudio Lotito has insisted that Milinkovic-Savic is not for sale and the player's agent has remained intent that Sergej holds a contract with Lazio, which does not expire until 2022. Milinkovic-Savic could choose to remain in Rome and continue his development with the biancoceleste, until Europe's elite next come knocking.
@snhw_