Chelsea News: Monaco overtake AC Milan in race for Fabregas: the situation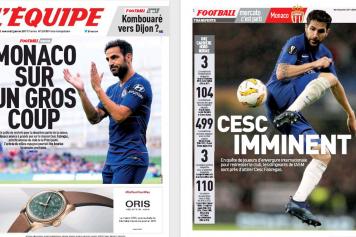 02 January at 10:15
Monaco have jumped to front of the queue to sign Chelsea midfield star Cesc Fabregas, L'Equipe reports. The Spanish midfielder will see his contract expire in 2019 and the Rossoneri want to sign him in the January transfer window. The Serie A giants, however, are now due to face the tough competition of the French club coached by Arsenal legend Thierry Henry.
The Monegasques have also made a big offer to sign the Spanish midfielder. Monaco have offered the former Arsenal and Barcelona star a contract until 2021 with a signing bonus of € 10 million, a fee that AC Milan can't reach.
The Rossoneri have offered Fabregas a one-year and a half contract worth € 4.5 million a year. Basically, it's all on Fabregas' hands now. The Spaniard can decide to join a big club that wants to return to the top of Italian and European football or sign the last big contract of his career and work with one of his former team-mates and close friends like Thierry Henry.
Meantime Chelsea hope to sell the player for as much money as possible but want to sign a valuable replacement before selling Fabregas in the January window.