AC Milan: Montella speaks about his future, Bonucci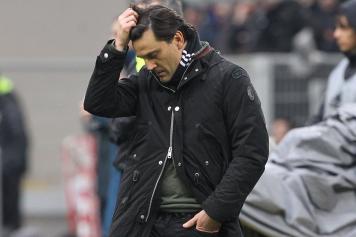 24 October at 12:50
AC Milan has lost three consecutive league matches, and are coming off an embarrassing Europa League draw with AEK Athens. Vincenzo Montella's job has been in doubt for months, but it seems that this will be a defining week in his tenure.
On the eve of his club's clash with Chievo Verona, the tactician
spoke
about his club's struggles and his future, but avoided speaking about struggling defender Leonardo Bonucci.
MORE AC MILAN NEWS: WHY FANS ARE FURIOUS AT KALINIC
ON CHIEVO-MILAN:
Chievo is a quintessentially Italian team, with decent quality. It has not lost since September 9th, while my team is finding its balance. We have been struggling to win, so we have to beat them.
ON LEO BONUCCI'S SUSPENSION:
There is cohesion. We're coming off three bad results despite three excellent performances. In the last match the team proved to have an identity. I expect our spirit to garner points.
'We will always play with 3-4-2-1'
ON BONUCCI REPORTEDLY OFFERING TO RELINQUISH THE CAPTAINCY:
I read a lot, almost everything. They are all disturbing reports, I know from where they came from. Bonucci did not say he wanted to give up the band.
ON SPECULATION ABOUT THE NEXT MILAN MANAGER:
Frankly, I do not mind reading about other coaches, it is normal in the media. I am here now. I feel the team is ready to explode. We are in a non-positive moment in rankings and results but not play. I do not see other teams playing better than us. We have to go back vehemently starting tomorrow.