Montolivo: 'I hope Miha stays', 'Milan's problems are psychological'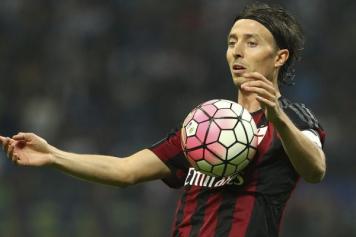 06 April at 16:20
Riccardo Montolivo says that AC Milan's squad is behind Sinisa Mihajlovic, and that the dressing room had a big discussion yesterday, leaving "no stone unturned".
Speaking to Sky Sport Italia from the Rossoneri's boot camp - called after the side lost 2-1 to Atalanta at the weekend - the former Fiorentina and current Milan skipper said that: "It's a delicate moment for us, we're not happy, it's unacceptable for a team like ours to have pocketed only two points in four games.
The Rossoneri have won only one game out of their last six, and face Juventus this Saturday at the San Siro, and are set to face their historic rivals again in the Coppa Italia final in May.
"I don't think a ritiro is the solution to all problems, but it's certainly useful for the present situation.
"Us players discussed things among ourselves, and we didn't hold back, we left no stone unturned.
We need to understand what has happened in the last weeks".
Montolivo went on to express support in favour of Sinisa Mihajlovic, echoing some of the
dressing room's leaders
, such as Ignazio Abate and
Cristian Abbiati.
"The team is with Mihajlovic,
I know him well and I know that he gives his best when he's under pressure. Saturday's fixture is a compicated one, but I think we'll see a different Milan at the San Siro.
"We're not bothered by speculation about the Coach's future, that's the nature of the beast, when results aren't forthcoming we hear a lot of names get dropped, but I hope that Sinisa can be our manager next year.
"Many things are being said about the future, we need to think about solving our problems,
I think our weakenesses are mostly mental.
With regards to two of the team's biggest question marks - Jeremy Menez and Mario Balotelli - Montolivo had this to say:
"Balotelli and Menez both did well off the bench at the weekend, even if they didn't score.
Mario's problem has always been his lack of consistency, I hope he'll be able to find it".