More than tactics: Mentality separates Ventura from Conte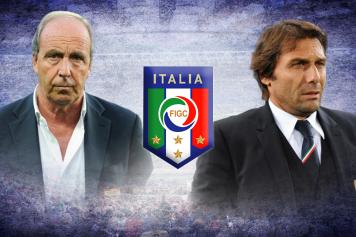 13 November at 14:30
By: Matthew Klimberg (@KlimbergCalcio)
"We expected to be in this situation when I arrived here." Those are the words of Italian national team manager Giampiero Ventura. The embattled tactician was speaking to reporters yesterday, the eve of his country's biggest match in a decade, when he said that. Observers wondering hat has happened to leave Italy on the brink of World Cup infamy needn't look further for answer than that quote.
When Ventura left Torino to take the prestigious position, Italy was coming off a strong Euro 2016 performance under the tutelage of Antonio Conte. The highlight of that tournament was their dominant performance against Spain in the knockout rounds, which saw them win 2-0.
Contrast that with Ventura's full quote from yesterday. "We expected to be in this situation when I arrived here, this was the most likely scenario. We knew we'd have been behind Spain but among the four best runner-ups."
You shouldn't be surprised to learn that Italy fell to Spain 3-0 in their September qualifier. By virtue of the loss, Italy were relegated to the qualification playoffs, in which they are currently behind Sweden.
In that quote you can see what separates Ventura from the brilliance of Conte. According to his own words, Ventura expected to lose to Spain, whereas Conte dismantled them. The difference between the two goes beyond tactics. It lies between their ears.
Conte had a winner's mindset. Ventura does not. As a result Italy may miss the World Cup for the first time in sixty years. That all stems from Ventura's losing mentality.
Matthew Klimberg