Mouinho has 'contempt' for Conte spat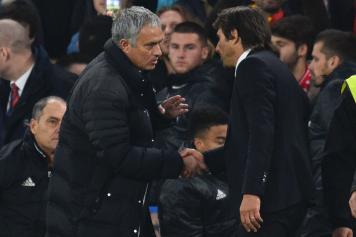 13 January at 19:00
Jose Mourinho says he only has "contempt" for his war of words with Antonio Conte after two weeks of trading insults with the Chelsea boss.
The Manchester United manager said he did not need to "act like a clown" on the touchline, prompting Conte to hit back by claiming Mourinho could be suffering from "senile dementia" having "forgotten his past."
In response, Mourinho referenced Conte's four-month ban for failing to report match fixing in 2012 -- a punishment that was ultimately rescinded in 2016 -- before the Italian struck back by branding Mourinho "fake" and a "small man."
Mourinho told a news conference on Friday: "I think when a person insults another, you can expect a response."
"Or you can expect contempt, silence. The first time he insulted me I had a response, a response that I know that touched the point where he really feels hurt. Then he insulted me for a second time, but now I change, and now contempt and for me, contempt means end of the story."