Mourinho distances himself from Conte spat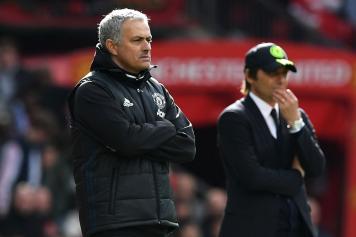 21 October at 09:05
Manchester United manager Jose Mourinho played down his spat with Antonio Conte, saying he never targeted the Chelsea head coach. Mourinho and Conte were involved in a war of words after the United boss criticized coaches who "cry" about injuries, a jibe the Italian thought was directed at him. But the Portuguese tactician said his comments were never aimed at Conte.
"I don't speak to him. I don't know why he speaks to me but that is no problem or maybe it is not his fault and it is the journalists' fault when they pass to him the wrong message," Mourinho said. "There are managers all over the world that by philosophy they prefer to speak about injuries, they prefer to try to find the excuse of a hypothetical failure based on injuries."
"Since last season we had big injuries and last season you know that without [Romelu] Lukaku, Zlatan [Ibrahimovic] was even more important for us and [everyone knows] what [Paul] Pogba means for us."
"I moan about why I don't understand why we play Saturday after Wednesday when we should play Sunday. I moan about this all the time but not about injuries. When managers say I moan about the fixtures then they are right, but nobody can say I moan about injuries because I always try to speak about opportunities for other players."