Mourinho: 'referees put Inter treble team at a disadvantage'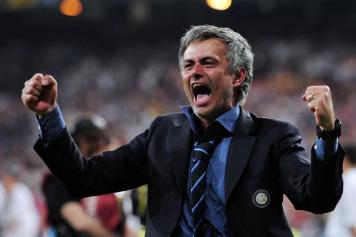 09 October at 17:06
Always in the headlines, never a deer in the headlights. Chelsea manager Josè Mourinho has been a headline machine ever since he burst onto the European football stage with Porto in 2004, when he won a Champions League trophy to go along with the UEFA Cup he'd nabbed the previous season at the expense of Celtic.
Still a legend in the bluer half of Milan for having led Inter to an unprecedented Italian treble, The Special One fanned the flames in his own inimitable style, claiming that the referees put Inter at a disadvantage in that magical 2009-2010 season.
"That season many refereeing mistakes went against us," Mourinho told globoesporte.
"To make up for it I used to include 10 v 11 drills in training to prepare the team for an eventual sending off.
"Unfortunately I forgot to do the same with nine players, which is what against Sampdoria when two of our men were sent off.
"Sneijder was a special N.10, Zanetti my captain and every Materazzi was key. People like him have written the club's history".
Mourinho's Chelsea have had a torrid start to the season, with some sources reporting that the Portuguese manager was retained only after the Blues' 3-1 home defeat to Southampton had prompted an emergency late-night board meeting. Yet the Portuguese coach expounded on his philosophy for dealing with tough times.
"I'm able to smile after a defeat. You know why? Because I want to get to the next game, and win it. My reaction is always a strong one, because I see a defeat as the beginning of a new cycle of victories".
Speaking of the bad, the Special One had a few things to say about his time at Real Madrid, where his methods delivered La Liga success but failed to win Real Madrid the European silverware they cherished, amid reports of locker room unrest and players openly rebelling against his authority.
"It's a great club, but it wasn't easily. As always I have my best and worked harder than ever. We managed to win the title with a record 100 points and 121 goals, the Copa del Rey and the Spanish Supercup by beating Barcelona in both finals".
Mourinho was, however, able to offer Chelsea fans some hope.
"Last year's Premier League was my 22nd title, but not my last one..."