Napoli, Ancelotti: 'We asked them to postpone it three times, next time we'll walk off'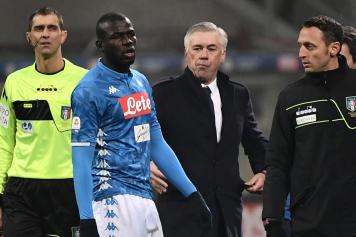 26 December at 23:54
Carlo Ancelotti, manager of Napoli,
spoke to Sky Italia
after the game against Inter, where he expressed his anger towards the racism that was directed for Koulibaly.
"The sending off determined the race. We were pushing when we were reduced to ten men. We had the chance to win it, but it wasn't to be.

"We asked for the game to be postponed three times. Three times they made announcements from the speaker and nothing happened (referee's decision), the player was nervous. Koulibaly is usually very polite and professional, but there was abusing throughout the game, which went ahead despite our requests."
The official rules state that if racial abuse occurs, then an announcement should be made to inform the crowd that the game could get postponed. Then it's up to the referee to halt the play, should it continue.

"The games can be interrupted, but the question is when. After five times or more? Koulibaly was agitated, nervous and this isn't good for us and for Italian football. Next time we will walk out of the game," he concluded.