Napoli captain Hamsik surprised by Benvento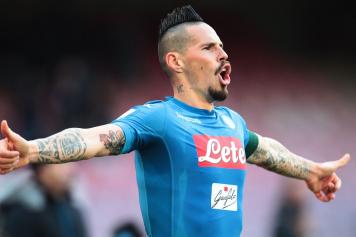 05 February at 11:15
Napoli captain Marek Hamsik stopped by Premium Sport to share his thoughts after having scored the second goal in the Partenopei's Serie A win away against Benevento which took them back to the top of the Serie A.
Hamsik admitted that benevento were a much tougher nut to crack than might be expected saying: "We suffered at the start, but then broke the deadlock with a great goal from Dries Mertens. Once we went 2-0 up, we tried to slow it down a bit and control the game. We must continue like this and remember that Benevento caused us quite a few problems."
The Slovakian international was asked about the Scudetto race following Juventus thrashing of Sassuolo 7-0 earlier on in the day to which Hamsik said: "We're not afraid of anyone, as we must only focus on our own results."
Napoli are one point clear of Juventus in first place of the Serie A and are matching the Bianconeri win by win in what promises to be the tightest title challenge Italy has seen for years.