Napoli coach Maurizio Sarri: "Mertens injury not serious"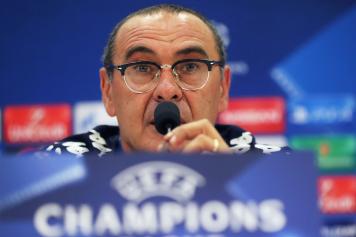 05 February at 09:00
After having watched his side retake the top spot in the Serie A from Juventus after defeating Benevento 2-0 away, Maurizo Sarri shared his thoughts on the match to Premium Sport.
The former Empoli coach was asked about the physical status of Dries Mertens who was brought off midway through the second half due to an injury saying: "We'll evaluate Mertens tomorrow. He had a knock and a slight sprain, it doesn't seem particularly serious."
Sarri then moved on to the match saying: "Benevento are alive and kicking, especially at home, and this was a tougher test than the table might suggest. It was not easy, they revamped the team over the last few weeks and were therefore difficult to predict. We predicted Benevento would play 4-3-3 and use different men, so the choices were a little surprising. We ran some risks and rested on our laurels in a few situations today, which should not have happened.
"I didn't watch Juventus today, nor any other game, so I have no idea what form they are in. It's not exactly a surprise that Juventus are a strong side. At the moment, Serie A is quite similar to the Bundesliga, where there's a club that is clearly stronger than the others. We've done well to keep the title race open, whereas in Germany that hasn't happened. The surprising thing is that Napoli are up there, not Juventus. This team picked up 60 points in 23 games, an extraordinary tally. Juve are going at more or less the same pace, but they are accustomed to it" Sarri continued.
In conclusion he was asked about the rumored meeting scheduled to take place between himself and Napoli President De Laurentiis to extend his contract saying: "I can't meet anyone on Friday, as we have a game on Saturday. I want to focus on other issues right now, so someone will meet with the President over the next few days and listen to the proposal on my behalf. There's no problem between Aurelio and I, so it's not an issue."