Napoli, here is what the players had to say about yesterday's defeat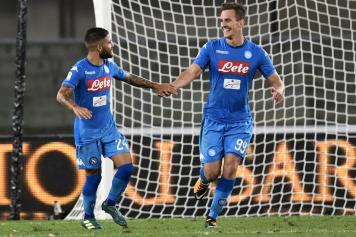 14 September at 08:45
Napoli lost against Shakhtar last night as they started off this new UCL campaign on the wrong foot. Juve also started with a heavy defeat to Barcelona where as Roma is the Italian club who got the best result of round one as they drew Atletico Madrid 0-0 in Rome. Here is what Insigne and Milik had to say to
Premium Sport (Via Repubblica)
after their 2-1 loss of last night : "We knew they were a solid squad as they have a lot of quality up front. I don't know what went wrong but we will analyze the game this coming week with the coach to understand what really happened. We will need to correct our mistakes as soon as possible. It's too bad since we now have to lower our heads and work hard to respond in the right way". Insigne wasn't sure to start but in the end he started instead of Mertens.
Here is now what Milik added to
Premium Sport
: " It is hard to understand, we did not play the way we wanted to. It also happened against Atalanta and Bologna but we were able to fight back in these games. We need to change something. We only played our style of football in the last 25 minutes of the game. Mertens? Everything changed once he came in, he can always change a game. I am feeling well physically and mentally speaking, now I have to prove on the pitch...".
Jean-Luca Mascaro (@CalcioNews89)