Napoli journalist blasts AC Milan-Juventus referee for not sending off Benatia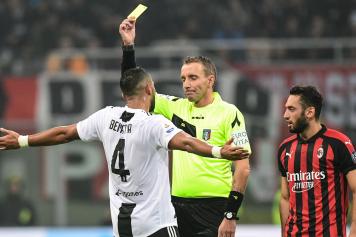 12 November at 14:50
Juventus prevailed over AC Milan yesterday in a thrilling encounter at the San Siro and refereeing decisions were once again discussed yesterday, but even today in various Italian papers and by journalists all over the country. One of them was Umberto Chiariello, a Neapolitan journalist,
who spoke to Canale 21 about yesterday's match
.
"After giving the penalty based on VAR, Mazzoleni did not give the second yellow card to Benatia, here we are in absolute favouritism! The defender interrupted a goal-scoring opportunity, by regulation there should be a yellow card and thus the second yellow," he said.
"Once again the championship is distorted, not on penalties, but on the cards. Chiellini was not warned against Napoli and Udinese, but we have Koulibaly booked. Pjanic had to be expelled in Milan and yesterday Benatia was saved.
"Koulibaly in Florence in the decisive match caused a penalty and got a yellow card, then with VAR a penalty and a red, as per regulation, and no one spoke about it in Naples. Why can Juve not play in 10 men?," Chiariello concluded.